AASSA-PAS Regional Workshop — Inaugural Session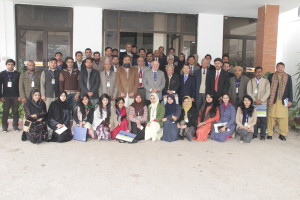 The looming threat of water scarcity and adverse impacts of climate change have complicated the serious challenge of ensuring food security for fast increasing populations of the Asian countries. This was stated by Engr. Baligh Ur Rahman, Minister of State for Federal Education& Professional Training while inaugurating 3-day International Workshop on "Challenges in Water Security to Meet the Growing Food Requirement" in Islamabad. This International Workshop has been organized by the Pakistan Academy of Sciences, in collaboration with Association of Academies and Societies of Sciences in Asia (AASSA). The President of Pakistan Academy of Sciences, Dr. Anwar Nasim, and Vice President of AASSA, Professor NakimAsar, who is senior scientist of Turkey, also spoke on the occasion.
Water is a key determinant for crop production and food security. Agriculture is the biggest user of water; it requires large quantities of water for irrigation and other production processes. The current trend of water use in Asian countries is not sustainable in the face of fast increasing populations, and the challenges posed by climate change. Thus, ensuring food security for fast growing populations of Asian countries with shrinking water resources is a daunting task. This fast changing scenario calls for using the finite water resource ­in an efficient and sustainable manner. The challenge is to produce more in a more sustainable way.
Leading experts of Pakistan, Turkey, Malaysia, Korea and Nepal are the resource persons at this important forum. In addition to technical presentations and discussions by the experts, Penal Discussions in the Workshop was led by senior scientists like Dr. Amir Muhammed, Engr. ShamsulMulk, and Dr. Mubarik Ali.