Anwar-ul-Haq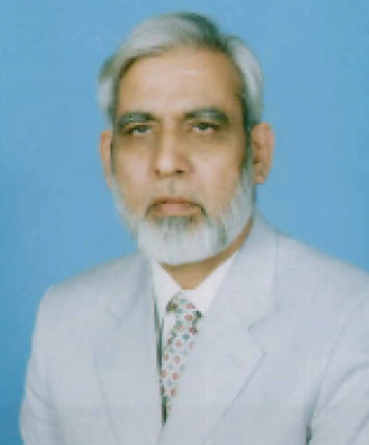 | | | | |
| --- | --- | --- | --- |
| Current Position | Professor & Deputy Vice Chancellor, Riphah International University, I-14, Islamabad | Phone No. | 051-222 1940 |
| Born in | Ujjain, British India in 01/01/1947 | Year Elected | 1996 |
| Email | [email protected] | | |
Education
University of Karachi, Pakistan: B.Sc. (Hon's.), 1967; M.Sc., 1968; University of Karlsruhe, Germany: Diploma Physics, 1978; Dr.rer.net, 1982
Positions Held
Professor and Deputy Vice Chancellor, Riphah International University, Islamabad, 2012-date; Founding Managing Director, KRL Foundation, Rawalpindi 2007-2008; Director General, Institute of Industrial Control Systems, Rawalpindi, 2005-2008; Chairman, Pakistan Council of Scientific and Industrial Research (PCSIR), 2000-2005; Acting Director General, National Institute of Electronics 2004-2005; Dr. A.Q. Khan Research Labs, Kahuta, 1982-2008: Director General Metallurgy Division, 1998-2000, Director, Metallurgy Division, 1995-1999; Chief Scientist, 1989-1996; Principal Scientific Officer, 1983-1989; Senior Scientific Officer, 1982-1983; Research Fellow, Institute of Applied Nuclear Physics, Nuclear Research Center, Karlsruhe, Germany, 1978-1982; IAEA Fellowship, Institute of Materials Research, 1977-1978; Scientific Assistant, Institute of Microscopy and Cinematography, Karlsruhe, Germany, 1975-1977; Research Officer, Pakistan Institute of Cotton Research and Technology, PCCC, 1969-1975; Senior Research Fellow, PCSIR Labs, Karachi, 1969; Lecturer, Physics Department, University of Karachi, Karachi, 1968-1969;
Awards
Sitara-e-Imtiaz, 2001; Presidential Award Pride of Performance, 1996; Tamgha-e-Baqa, 2001; Coveted "Man of the Year 2003 Award" by South Asia Publications, Pakistan; INFAQ Foundation Gold Medal for Engineering Sciences by Pakistan Academy of Sciences (PAS), 1995; Gold Medal by Pakistan Vacuum Society, 2000; Dr. A.Q. Khan Gold Medal and Cash Prize for outstanding services in the field of Nuclear and Missile Technology, 2000; PAS Golden Jubilee Gold Medal, 2002; Millennium Gold Medal by South Asia Publications, 2003.
Fellowships / Memberships
Fellow, Royal Microscopical Society, London, 1990; Fellow, The Academy of Sciences for the Developing World(TWAS); Elected Treasurer/Secretary,PAHPS, 1998-2002; Councilor, ASIAN Crystallographic Association, IUCR, 1990-2000; Member, Pakistan Crystallographic Society, 1990; Editorial Board Member, Pakistan Journal of Scientific and Industrial Research, 1992-2000; Editorial Board Member, Science Development and Technology, Pakistan, 1992-2000; Editorial Board Member, Science Vision, COMSATS, 1995-2005; Member Organizing Committee, FASAS Symposium, 1992; Technical Committee on Engineering Sciences, Pakistan Science Foundation, 1997; Editor, Proc. ISAM 1989/1991/1993/1995/1997/1999; Co-editor, World Directory of Crystallographers, 9th Edition, 1995; FMMM and C. Engg. Institute of Materials, Minerals and Mining, UK, 2013; Professional Engineer, PEC, 2014.
Research Area
Structure-Property relationship of Materials Sciences; X-ray Diffraction, TEM and SEM Techniques; Dental Materials Computer Based Rehabilitation Techniques.