M. H. Ali Hassan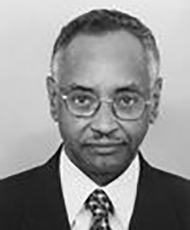 | | | | |
| --- | --- | --- | --- |
| Current Position | President of The World Academy of Sciences (TWAS), Italy | Phone No. | +249183590631 |
| Born in | Elgetina, Sudan in 11/09/1947 | Year Elected | 2002 |
| Email | [email protected] | | |
Education
University of Newcastle, UK, B.Sc. (Special Honours), Mathematics, 1968; University of Oxford, UK, M.Sc., Advanced Mathematics, 1969; University of Oxford, UK, D. Phil. (Ph.D.), Plasma Physics, 1974.
Positions Held
President of The World Academy of Sciences (TWAS), Italy; President of the Sudanese National Academy of Sciences (SNAS), Sudan; Chairman of the Governing Council of the United Nations Technology Bank for the Least Developed Countries, Turkey and Chairman of the International Advisory Board of the Centre for International Development (ZEF), Germany. Member of the Board of Directors of Grand Challenges Canada ( GCC ), Canada; the Board of Trustees of Bibliotheca Alexandrina, Egypt; the Council of Science and Technology in Society (STS) Forum, Japan; and the Steering Committee of the World Science Forum, Hungary. Full Professor and Dean, Faculty of Mathematical Sciences, University of Khartoum; President of the InterAcademy Partnership (IAP); founding Executive Director of the World Academy of Sciences (TWAS); President of the African Academy of Sciences (AAS); founding President of the Network of African Science Academies (NASAC); Chairman of the Council of the United Nations University (UNU); and Chairman of the Honorary Presidential Advisory Council for Science and Technology, Nigeria.
Awards
Comendator, Grand Cross, and National Order of Scientific Merit, Brazil; Officer, Order of Merit of the Italian Republic. G77 Leadership Award and the Abdus Salam Medal for Science and Technology.
Fellowships / Memberships
Fellow/Member of TWAS; AAS; the Islamic World Academy of Sciences; Academia Colombiana de Ciencias Exactas, Físicas y Naturales; Académie Royale des Sciences , Belgium; Pakistan Academy of Sciences; Academy of Sciences of Lebanon; Cuban Academy of Sciences; academy of Sciences of South Africa; the Pontifical Academy of Sciences and Hassan II Academy of Science and Technology.
Research Area
Theoretical Plasma Physics and Fusion Energy; Wind Erosion, Dust and Sand Transport in Dry Lands, STI in the Developing World.