Mohammad Perwaiz Iqbal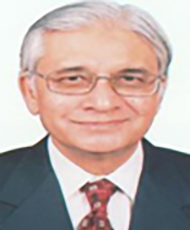 | | | | |
| --- | --- | --- | --- |
| Current Position | Department of Biological & Biomedical Sciences, The Aga Khan University | Phone No. | (92-21) 34864463, 34930051 |
| Born in | Okara, Pakistan in 08/12/1949 | Year Elected | 2002 |
| Email | [email protected] | | |
Education
University of the Punjab, Lahore, M.Sc., 1970; New York University, M.S., 1978; New York University, Ph.D., 1981.
Positions Held
Aga Khan University, Karachi: Professor of Biochemistry, 1992 to date; Director FHS-PhD Program, 2013 to date; Interim Chair, Department of Biological & Biomedical Sciences, 2009-2010& 2015 to-date; Acting Chair, Department of Biochemistry, 1983-86; Associate Professor of Biochemistry, 1986-91; Assistant Professor of Biochemistry, 1983-86; Assistant Professor, SUNY-Downstate Medical Center, New York, 1982-83; Instructor, SUNY-Downstate Medical Center, New York, 1980-82; Research Assistant, New York Medical College, New York, 1974-80; Research Assistant, Pakistan Medical Research Center; International Center for Medical Research & Training, University of Maryland, USA, 1971-74.
Awards
Sitara-i-Imtiaz, Government of Pakistan, 2002; Award of Excellence in Education, Aga Khan University, 2006; Outstanding Teacher Award, Aga Khan University, 2010, 2004 and 1995; PAS/INFAQ Gold Medalin Medical Sciences 2001 and in Biological Sciences 1995, Pakistan Academy of Sciences; Second Prize for International Publications, National Book Council, 1993; Academic Roll of Honor, Government College, Lahore, 1970.
Fellowships / Memberships
Fellow Pakistan Society for Biochemistry and Molecular Biology 2003 ChairmanMedical Research Society of Pakistan 2000 to 2003 General Secretary MedicalResearch Society of Pakistan 1998-2000 Fellow Pakistan Academy of MedicalSciences 1992 Member Biochemical Society London 1988 to date Life MemberPakistan Pharmacological Society 1991 Life Member Pakistan Society forBiochemistry & Molecular Biology 1991 Editor Pakistan Journal of Biochemistryand Molecular Biology Member Board of Studies Institute of Biochemistry &Biotechnology University of the Punjab 2001-2003 Member Board of StudiesNational Center for Proteomics University of Karachi Adjunct Professor DrPunjwani Center for Molecular Medicine and Drug Research University of Karachi2010 to date
Research Area
Folate Metabolism, Enzymology, Gene Polymorphism, Vitamins' Deficiency and Development of Coronary Artery Disease, Vitamin D and Diabetes Mellitus, Heavy Metal Pollution and Human Health, Hyperhomocysteinemia.