G. Sarwar Gilani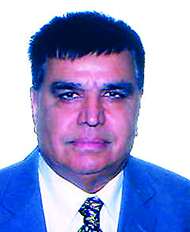 | | | | |
| --- | --- | --- | --- |
| Current Position | Nutrition & Health Advisor, 506 Caracole Way Ottawa, Ontario, Canada K4A 0W3 K1C 5M8 | Phone No. | 1-613-830-2197 |
| Born in | D.I. Khan, Pakistan in 1943 | Year Elected | 2011 |
| Email | [email protected] | | |
Education
University of Peshawar (Pakistan): B.Sc. Hon., 1964; M.Sc. 1968; University of Saskatchewan (Canada), M.Sc., 1971; Ph.D. 1974.
Positions Held
Nutrition and Health Advisor (Independent), 2011 to present; Senior Research Scientist, Bureau of Nutritional Sciences, Health Products and Food Branch, Health Canada, Government of Canada, 1982 to 2011; Scientific Evaluator, Health Protection Branch, Government of Canada, 1977 to 1981; Professional Research Associate, Rapeseed Association of Canada, 1975 to 1976; Post-doctorate Research Fellow, University of Alberta; Adjunct Professor, McGill University (Canada), 1984 to 1992; Adjunct Professor, Laval University (Canada), 1985 to 1990; Lecturer, University of Peshawar, 1968 to 1969.
Awards
The Queen's Golden and Diamond Jubilee Medals (2003 and 2013); Health Canada's Award for Excellence in Science (2004)
Fellowships / Memberships
Fellow, Association of Official Analytical Communities (AOAC) International; Chair, Editorial Board, AOAC International (2013-2018); Member of WHO/FAO Expert Consultations on Protein and Amino Acid Requirements for Human Nutrition (2002) and of FAO/WHO Expert Consultations on Protein quality Evaluation in Human Nutrition (1990, 2001 and 2011); Member of Codex Committee on Vegetable Proteins for establishing international standards for international trade (1980-1989); Member, American Society for Nutritional Sciences and Canadian Society for Nutritional Sciences; Scientific Advisor to Pakistan under the UNDP and the President's Programme for Care of Highly Qualified Overseas Pakistanis( (2015, 2011, 2008, 2004, 2003, 1999, 1991; Scientific Consultant to FDA and LSRO (Life Sciences Research Office), USA; Member, Expert Review Panels, Centre of Excellence, Government of Canada dealing with Food, Nutrition and Health (2000-2005); Organized and/ or chaired international symposia including those sponsored by FABA (Federation of Asian Biotech Associations) with headquarters in India; Member, Editorial Board of an international journal " Plant Foods for Human Nutrition: Section Editor of Journal of AOAC International.
Research Area
Food and Nutrition Security issues; Research regarding safety and nutritional quality of the food supply to prevent acute and chronic diseases and nutrient imbalances in general populations and in sub-groups at increased risk with reduction of corresponding health care costs.