PAS Inks Agreements of Scientific Cooperation with Turkish Counterpart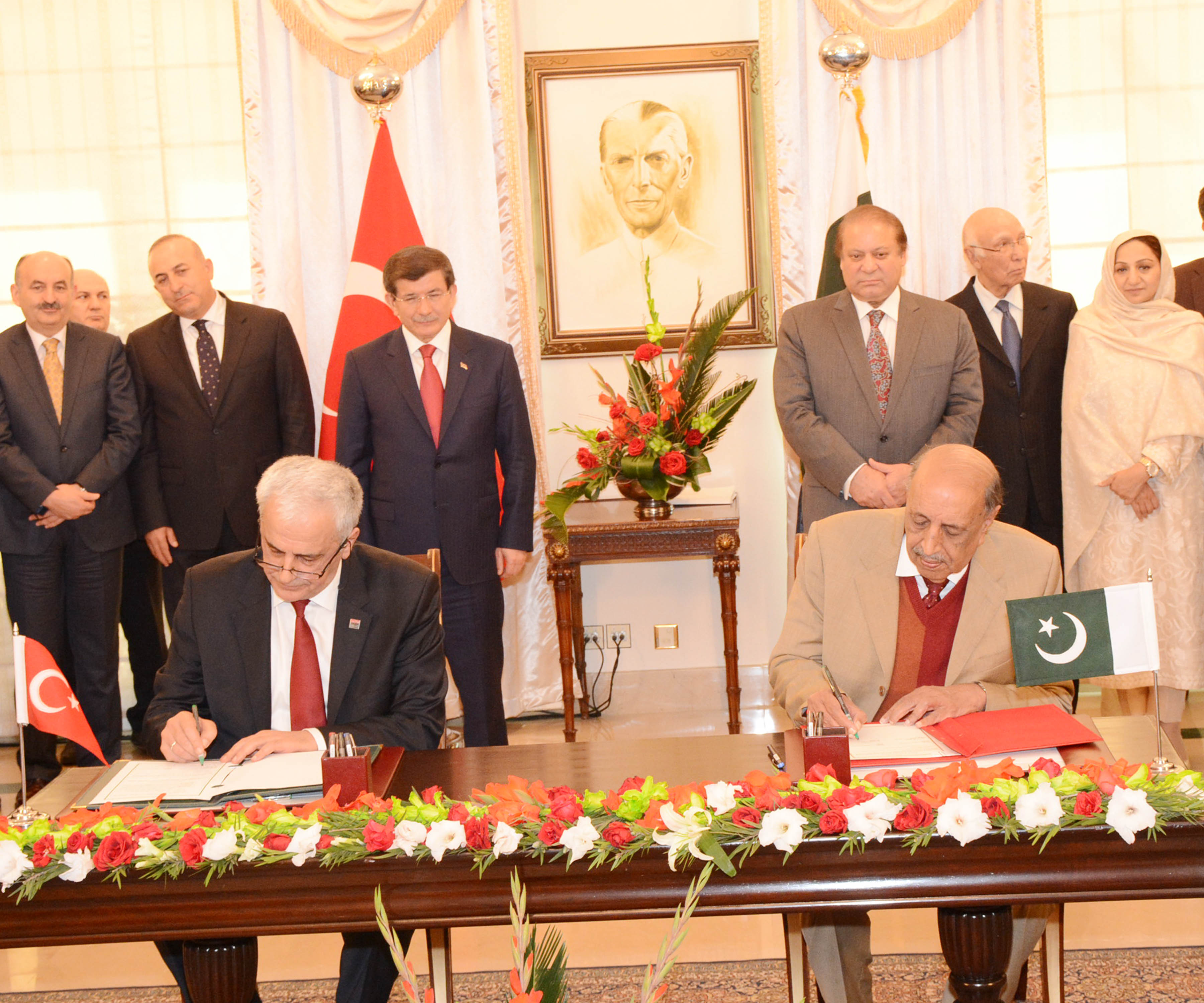 During the visit of Turkish Prime Minister to Pakistan in February 2015, the Pakistan Academy of Sciences (PAS) has signed an Agreement for Scientific Cooperation as well as an Executive Protocol for Scientific Cooperation with its Turkish counterpart, i.e., the Turkish Academy of Sciences (TÜBA). These Agreements for mutual cooperation were signed on 17 February, 2015 at the Prime Minister's Office in Islamabad by President of Pakistan Academy of Sciences, Dr. Anwar Nasim, and President of Turkish Academy of Sciences, Prof. Dr. Ahmet Cevet Acar, in the presence of Prime Minister of Pakistan Mian Muhammad Nawaz Sharif, and Prime Minister of Turkey, Mr. Ahmet Davutoglu, and many other dignitaries, including Federal Minister for Planning & Development, Prof. Ahsan Iqbal, Advisor to Prime Minister on Foreign Affairs, Mr. Sartaj Aziz, Senator Pervaiz Rashid, Minister for Information and Broadcasting and Minister for National Health Services, Ms. Saira Afzal Tarar. The delegation of Turkish Prime Minister included several cabinet ministers, senior government officials and top businessmen. The Agreements for Scientific Cooperation envisage cooperation through bilateral scientific meetings, exchange of scientists, exchange of information and publications, and other activities upon mutual agreement. Thus, the protocols signed between PAS and TÜBA constitute an important turning point and a sound foundation to strengthen the existing cordial relations with our brother country Turkey's people and scientists into a formal framework.
The TÜBA President, Prof. Dr. Ahmet Cevat Acar, and members of his delegation also visited the Pakistan Academy of Sciences. During the visit, both sides expressed their excitement concerning the Agreements and exchanged information and views on the opportunities for collaboration in areas of mutual interest. The visit of the TÜBA delegation to PAS was participated by President of PAS, Dr. Anwar Nasim, a former President of PAS, Prof. Dr. M. D. Shami, and Secretary General of PAS, Prof. Dr. Zabta K. Shinwari, and TÜBA Advisor, Prof. Dr. İbrahim Kaya. In the framework of the Agreements, PAS and TÜBA intend to organize bilateral scientific meetings, symposia, conferences and workshops and exchange of information-publication-scientists.