Association of Academies & Societies of Sciences in Asia (AASSA) and Pakistan Academy of Sciences (PAS) Joint Workshop at PAS Secretariat, Islamabad (August 19-21, 2019)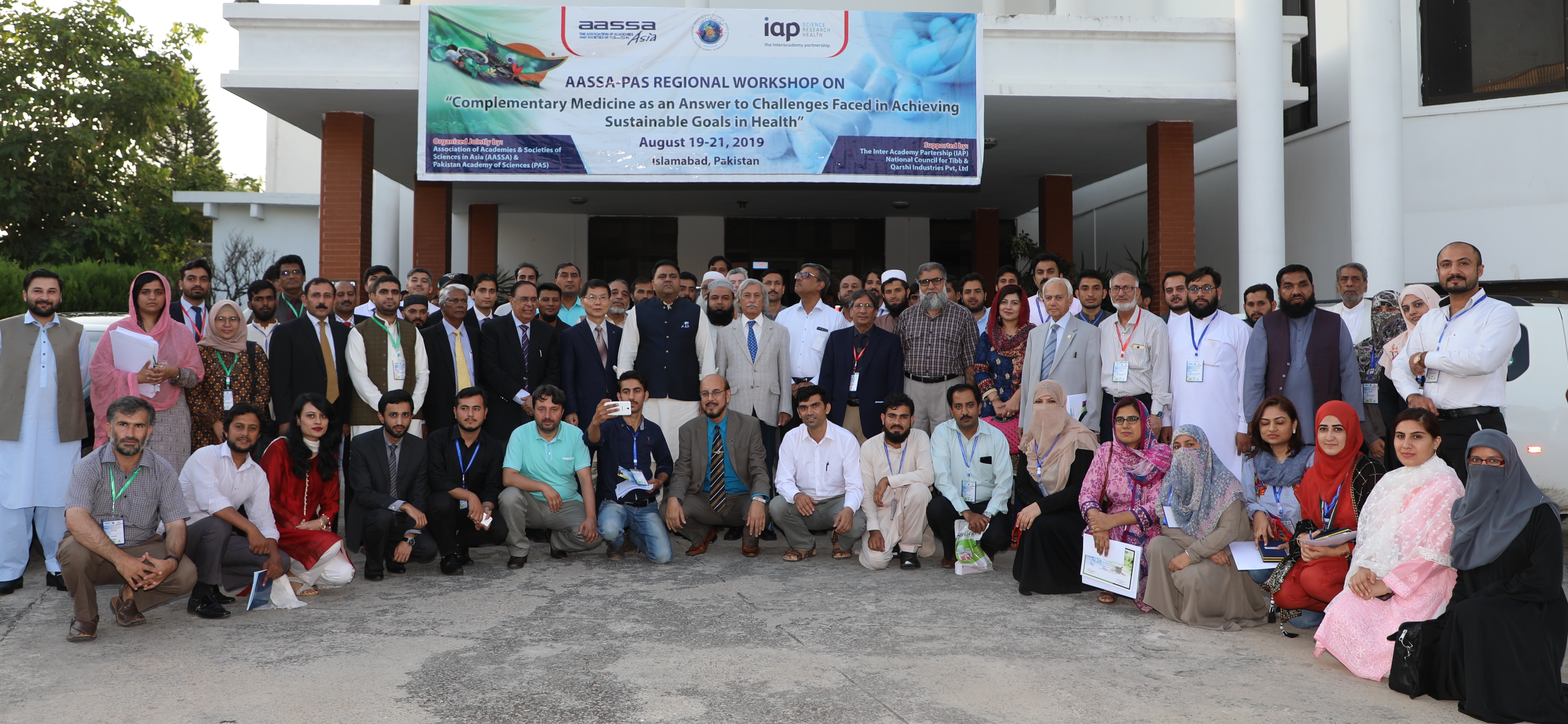 The Pakistan Academy of Sciences (PAS) and the Association of Academies & Societies of Sciences in Asia (AASSA) jointly organized a three day Regional Workshop on Complementary Medicine as an Answer to the Challenges Faced in Achieving Sustainable Goals in Health held from August 19-21, 2019 at the PAS Secretariat, Islamabad. The workshop focused on: (a) Complementary Medicine and SDGs; (b) Media & Complementary Medicine; (c) Land Tenure & Sustainable use of Medicinal Plants and; (d) Role of practitioners in maximizing benefits of Herbal Medicine, with the objective to conduct a survey among the herbal practitioners & scientists about SDGs, current issues, challenges in Asia for herbal medicine. The workshop was attended by young researchers and experts from academia, industries and research institutes from within Pakistan as well as from participant countries naming, Malaysia, Bangladesh, Japan, Russia, Turkey, Korea, Indonesia, Sri Lanka and China. The workshop comprised of Technical Sessions, Poster Competition, Group discussions and Post Workshop Special Lecture organized at the National Institute of Health (NIH), Islamabad. This event provided an excellent opportunity to the local researchers to exchange knowledge through interaction with the foreign experts at the workshop.
In his opening address, Prof. Dr. M. Aslam Baig, Secretary General, PAS welcomed the diverse gathering of the workshop and thanked the Chief Guest, H.E. Zartaj Gul Wazir, Minister of State for Climate Change for her gracious presence to inaugurate the event. H.E. Zartaj Gul congratulated PAS for organizing the immensely important workshop.Prof. Dr. M. Qasim Jan, President PAS delivered the welcome address and expressed gratitude to the speakers, participants and dignitaries for making this event successful. Prof. Dr. Yoo Hang Kim, President AASSA appreciated the incredible efforts of the local organizing committee. Prof. Dr. Atta ur Rahman, FRS Chairman
Prime Minister's Task Force on Science and Technology presented Key Note address.
For poster competition, twenty-two posters were short listed. A four member evaluation committee was formulated comprising of Dato Dr Khairul Anuar Bin Abdullah (Malaysia); Dr. Sri Fatmawati (Indonesia and Prof. Dr. Masoom Yasinzai and Prof. Asma Gul from Pakistan. This poster money was basically donated by President AASSA from his personal pocket money. Partial contribution was made by organisers of the workshop.
he Federal Minister (S&T), H.E. Chaudhry Fawad Hussain Concluded the regional workshop as Chief Guest. In his address, he remarked that this regional workshop will provide excellent opportunity for herbal industry and R & D. Prof. Dr. Zabta Khan Shinwari (FPAS), the Convener of this scientific forum presented vote of thanks and acknowledged the AASSA- PAS for organizing, sponsoring and facilitating the event.
The following recommendations are based on the presentations and discussion during the workshop and are in line with the strategies recommended in the WHO 2014 – 2023 Strategic Frame Work.
Establish Higher Education and Research to enhance quality and expand the knowledge base of T&CM
Integrate Traditional Medicine with Primary Health Care (PHC)
Suppliers of medicines based on natural products must ensure that harvesting of the products from the animal/organisms species providing the source compounds is sustainable or the animals are domesticated in order to meet demands.