International Workshop on Science Journalism at Forman Christian College University, Lahore (January 11-12, 2023)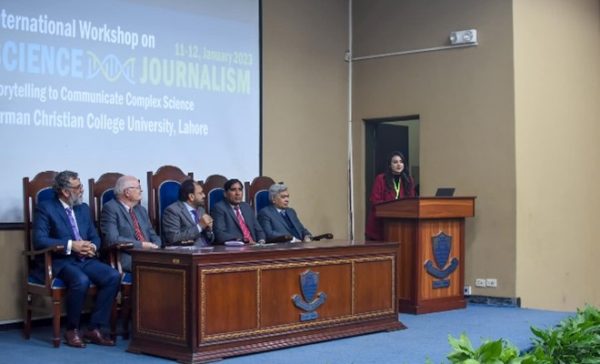 The Pakistan Academy of Sciences (PAS) sponsored a two-day international workshop on Science Journalism at the FC College, jointly organized by ORIC FCCU, Faculty of Humanities and KAM-School of Life Sciences on 11-12 January 2023. In the inaugural ceremony held on 11th January 2023, the Chief Guest Prof. Dr. Shahid Munir; Chairman PHEC highlighted the importance of communicating science in a better way in a developing country like Pakistan. He said that it is important that our entertainment industry now inclines towards producing science-based content instead of conventional scripts. Ms. Ayesha Aslam – Manager Innovation and Commercialization at ORIC FCCU served as coordinator for this workshop. The objective of this workshop was to achieve a better understanding of science among the journalist community to focus on the tactics that will make the journalists write about new inventions in a positive way. Speaking at the occasion, the coordinator of the workshop stated that the information in journals written in scientific language by scientists is very hard for the public to understand. There is a need to educate journalists to transform scientific writing into simple language for laymen in an effective and interesting way.
Dr. Tasawar Hayat- General Secretary PAS also attended the ceremony and appreciated the efforts of ORIC and FC College for creating awareness about Science Journalism among the journalists and scientific community through this workshop.
Dr. Jonathan Addleton (Rector-FCCU) said that it is time that we start introducing joint courses of communication and science in the curriculum so that the upcoming journalists know how to pitch science stories and scientists know how to translate their work in much simpler and understanding language for the non-scientific community. He also thanked the Director ORIC and Dean Postgraduate Studies, Dr. Kauser Abdulla Malik (Fellow PAS) and Dean Faculty of Humanities Dr. Altaf Ullah Khan for providing this platform to bridge the gap between the scientific and journalist community in Pakistan. Dr. Altaf Ullah Khan presented an overview of the workshop and explained how efficiently it has been designed both for journalists and scientists.
Dr. Mahaletchumy Arujanan- Executive Director of Malaysian Biotechnology Information Center and Global Coordinator for ISAAA along with Mr. Ehsan Masood- Bureau Chief Editorial, Africa and the Middle East, Nature were the International trainers and they conducted sessions on "Why scientists need to be involved in science communication, the basic principles in science communication, the common mistakes, how to pitch science stories, changing research into media articles, social media engagements; opinion writing for scientists and the future prospects for science journalism respectively". Renowned names like Dr. Manzoor Soomro-Advisor ECO Science Foundation; Dr. Zabta Khan Shinwari- Professor Emeritus QAU; Dr. Savera Mujib Shami- Chairperson, Department of Digital Media, School of Communication Studies PU; Dr. Ayesha Ashfaq- Chairperson Department of Development Communication PU; Mr. S.M. Abu Bakar- Communication Specialist IWMI, Pakistan; Dr. Javaid Khurshid- Advisor COMSTECH; Dr. Sabieh Anwar-Dean Syed Babar Ali School of Science and Engineering, LUMS and Mr. Aleem Ahmad- Editor Global Science Magazine gave talks during the workshop.
Dr. Kauser Abdulla Malik (Fellow PAS) concluded the workshop. He said that Science writers and journalists play an important role in engaging the public with science and bringing the work of scientists from the lab to the public spotlight. Their work is important in ensuring that misconceptions do not influence public opinion and government policy. Participants from different media houses, print and digital media representatives participated along with scientists and Ph.D. scholars.