Invited Talk on Paleoecological Insights into the Response of Biodiversity and Ecosystems to Climate Change (September 11, 2022)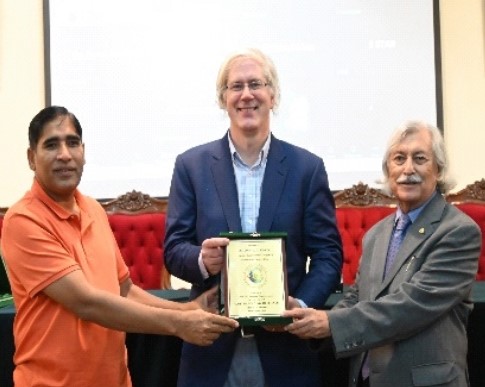 Pakistan Academy of Sciences organized an invited talk on 'Paleoecological Insights into the Response of Biodiversity and Ecosystems to Climate Change' on September 11, 2022. Prof. Dr. Daniel Gavin from the Department of Geography, University of Oregon, USA was invited as a Guest Speaker. He was on a visit to Pakistan in connection with a Project titled "Enhancing the study of Climate Change and Glaciology in Gilgit-Baltistan" through collaboration between Karakoram International University and the University of Oregon, USA. Prof. Tasawar welcomed the Speaker and all the participants. Prof. Daniel is a biogeographer interested in understanding the present and past responses of Earth's biota to climate change. The invited talk offered a brainstorming session at the Pakistan Academy of Sciences for environmentalists, ecologists, paleo-climatologists, geologists, hydrogeologists, bio-geographers, and climate change specialists to discuss on the paleoecological insights into the response of biodiversity and ecosystems to climate change.
He covered an overview of the insights from the recent fossil record from lake sediments regarding how forest ecosystems and forest fires change from past climate changes from the ice age to the present and the biogeographic changes of species over the same time period. The issue of climate change has emerged as a matter of increasing concern among the global communities since the beginning of the 21st Century. Pakistan has been ranked among the top ten climatically vulnerable countries in the world. Specifically, the Gilgit-Baltistan region of Pakistan, being one of the world's most rugged and glaciated mountainous landscapes, is highly sensitive to the adverse impacts of climatic changes as is visible and being witnessed in the form of glacial melting at ever-increasing rates, extreme weather events, and the increasing frequency of devastating floods, rock-fall and other climate hazards. In particular, the mountain communities suffer from the negative
impacts of hydro-meteorological hazards, with greater numbers of people migrating down the country than ever before given displacement from their homes due to extreme weather events. Women in Pakistan are more vulnerable to the impacts of climate change due to social, cultural, economic, political, and institutional barriers.
Prof. Qasim Jan, Prof. Aslam Baig, Prof. Amin Badshah, Prof. Zabta Shinwari and participants from the different Universities/Institutes attended the lecture.