Stakeholders and Consultative Seminar on World One Health Day November 03, 2021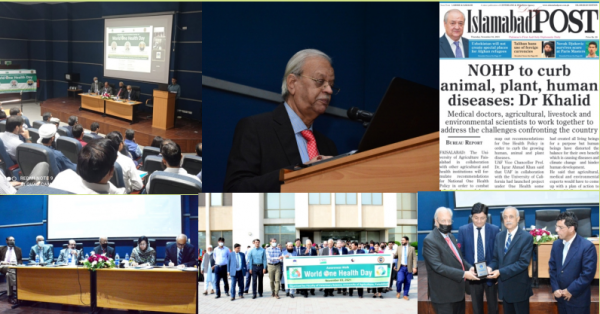 The Stakeholders and Consultative Seminar on World One Health Day, November 03, 2021, was celebrated at UAF. The aim was to apprise and policy or recommendations to promote One Health in Pakistan. The event was honored by the presence of Prof. Khalid Mahmood Khan, President Pakistan Academy of Sciences (PAS). The VC, UAF, Prof. Iqrar Ahmad Khan welcomed the distinguished guests and explained the One Health initiative at UAF back in 2016 and the inclusion of nutrition and agriculture perspectives in this domain. Prof. Khalid from PAS described in detail One Health aspect and its implications in Pakistan. He encouraged to launch a One Health project in Pakistan via PAS. Prof. Anas Sarwar Qureshi, Pro-VC, Dean, FVS apprised about the role of FVS in One Health and the prevention of zoonosis by this One Health approach. Later Prof. Sajjad-ur-Rahman, Director, Microbiology briefed about the seminar program.
The invited speakers talked about the One Health paradigm; Prof. Jaehan Kim from South Korea presented the role of nutrition in One Health. Dr. Mursalin from Pak One Health Alliance briefed about POHA and its collaborations with One Health nationally and internationally. Dr. Shagufta Zareen from PSPU presented the Punjab rabies control model and its relation with One Health. Dr. Asad Zaheer from UHS presented COVID-19 readiness and resilience in One Health perspectives. Invited panelists (Dr. Mashkoor Mohsin, Dr. Allah Rakkha, Dr. M. Kashif Saleemi, Dr. Nabeel Khan Niazi, and Dr. M. Sohail Sajid) presented the One Health approach to tackle antimicrobial resistance, nutritional diseases, environmental mycotoxins, Zn toxicity and vector-borne diseases of public health.
The seminar was concluded by VC, UAF with a take-home message of forming a One Health approach as solution-driven to improve community health, animal health, and environment/agriculture health. The VC, Faisalabad Medical University, Prof. Zafar Ali stressed the incorporation of Medical sciences in One Health and the promotion of fellowships in One Health in Pakistan. Finally, an awareness walk to highlight World One Health Day was observed by the participants.
Outcomes of the Event:
The signing of the MoU between UAF, UHS, PSPU, and POHA was accomplished.
Appraisal of One Health approach & skills by the participants.